When you actually start to save money, it is tempting to splurge on a dream vacation. Creating a budget for your vacation is not a bad thing though.
In fact, I believe you can have a great vacation for less, but takes a lot organization and planning. That's how my friends and are I are planning our trip to South Korea (whenever we're able to go). We were supposed to go in April 2020, but due to the outbreak of COVID-19, we had to cancel and postpone!
Because of that, I wanted to share a few tips on how you can budget for your next dream vacation.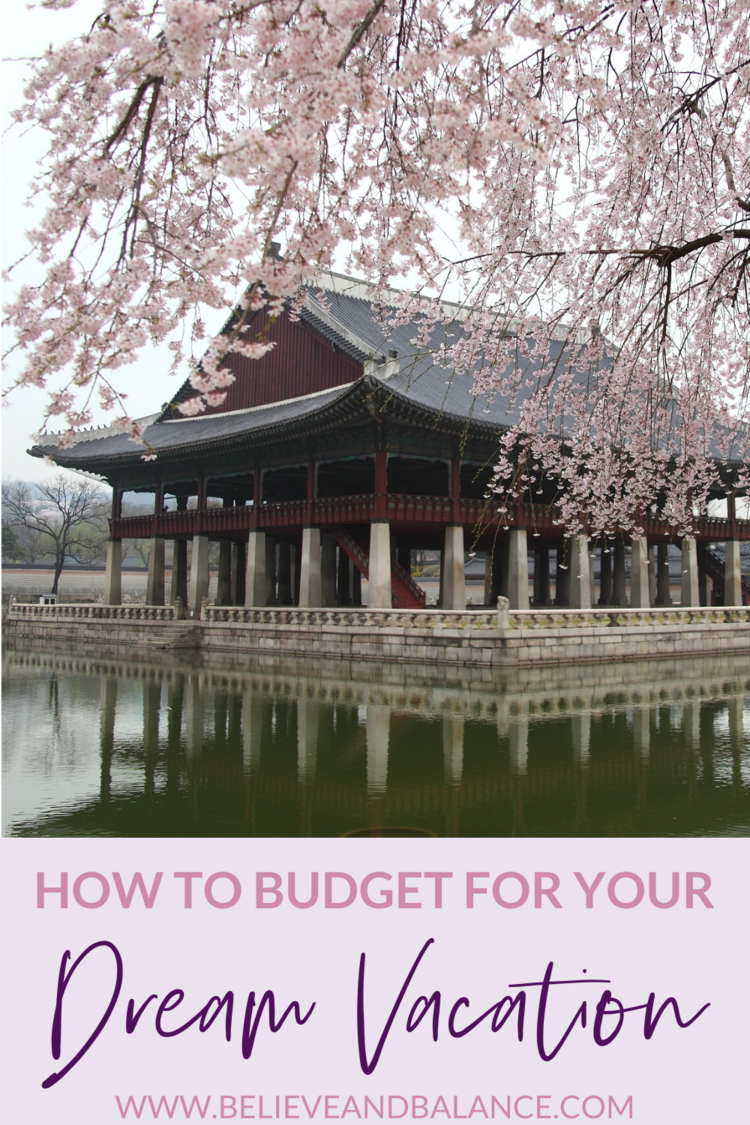 Here are a few tips on how you can plan your vacation on a budget:
Transportation
Flights can be expensive. You can sometimes luck out on a last minute deal when an airline is trying to fill up seats. However, if you want to make sure you have a flight for your dates, the sooner the better. Sometimes booking a package through a travel agent will include the flight into the package price. That is another way to score some deals with flights.
If you are going to be traveling by train, consider a travel pass. There are rail passes for traveling through Europe, for example, that will give you a great deal for a certain number of days. Instead of trying to be a separate train ticket for travel to each location, this can be a great way to save money.
Getting around at your destination may include using public transportation. If that is the case, look for similar types of passes. Some locations offer public transportation passes for buses and/or metros for 3, 5, and 7 days.
Lodging
Choosing a place to stay can be the most stressful part of planning a vacation. However, it does not have to be where you spend the most money. There are many websites that will search hotels, hostels, bed & breakfasts, and even apartment rentals for you. You can set your price guidelines along with location and other amenities. It is easier to find deals to fit any budget.
Another option is to request the travel guide for the location you are headed. Travel guides tend to have coupons for attractions and accommodations. Sometimes you can pair that coupon with other offers, so be sure to read the fine print.
Don't hesitate to call the hotel and ask what deals they are offering. Sometimes they can meet or beat a deal that you find on the internet. The key to finding discounts on lodging is to do your research. Don't hesitate to ask questions and exhaust all possibilities.
Food
You don't have to eat out every single night. If the location you are staying at provides access to the kitchen, head to a grocery store and plan to cook a few nights. You will spend less if you make your own meals. That being said, if you know you will be eating some meals out, check that Travel Guide or find an Entertainment Book for that location. Using coupons at restaurants is a great way to try local flavors without breaking the banks.
Sometimes restaurants have a kid's eat free night. Check the local area to see what night any of the restaurants offer that discount. You can save yourself between $5.00 and $20.00 depending on the restaurant and how many children you have. If you can coordinate several different kid's eat free nights, you can add up those savings.
Eating at a restaurant usually means large portions and large dollar amounts. It is possible for two adults to split a meal and not be hungry afterwards. Instead of spending $24.00 on two entrees, you can spend $12.00 on one. Over several meals, this will add up as well.
If you have walked into a convenience store to buy snacks or drinks as you travel, you know the costs add up. Make your own snacks or head to a grocery store and buy a lot of drinks and snacks you can bring with you. That will help minimize the costs. If you buy a case of soda before you leave, you may spend $5.00 on that case. However, that beats spending $1.00 each time you want a drink.
Attractions
It is a lot easier to find deals on attractions. You can visit the website of the place and see if they have any discounts, promotions, or coupons available. If you have ever tried to plan a trip to Disneyland, you know the entry charges add up. However, if you plan it around someone's birthday, they can get in free. You can also buy multi-day passes if you know you will spend more than one day there.
Attractions and activities also place coupons in those Travel Guides and Entertainment books. Be sure to find any coupons that can save you admissions or cut them in half.
It is not a sign of destitution to use coupons. In fact, many people use coupons because they enjoy saving money. Even though you are getting ready to head out on vacation, it is yet another opportunity to save your money. You can have a great time without breaking the bank.